Back
PROVIDER OF INNOVATIVE, HIGH PERFORMANCE PRODUCTS AND SERVICES FOR THE DATA CENTER MARKET.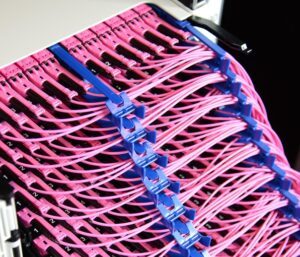 HUBER + SUHNER has over 25 years of experience in the creation of customized connectivity solutions that provide safe and reliable services that are "critical to business".
The H+S data center offer is specialized in fiber optic connectivity, high-quality structured cabling and space-generating fiber management systems to all-optical switching and fiber optic bandwidth expansion.
They develop and offer their clients solutions that are among the most innovative on the market. Their products provide the most customized solutions for each IT room operation, from the simplest to the most structured.
In cooperation with their listed partners, they multiply their optic network resources and offer high performance, innovative solutions for the data center market.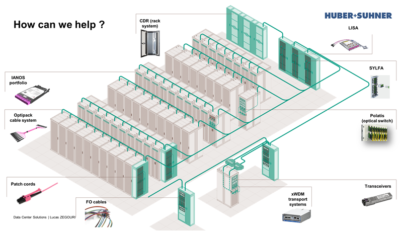 In addition to the strong presence of HUBER + SUHNER solutions, they are also very present with hosting providers in interconnection solutions for Meet-Me-Rooms.
Working with HUBER + SUHNER means you can expect :
Expandable solutions for today and beyond
Engineering that does more in less space
Easy handling from start to finish
Exceptional partnership and service
Extensive options for on-time delivery
Endless commitment to exceed quality expectations
The H+S solutions help us help you to construct the most robust data center on the strongest foundation possible to ensure you have the space, time and ability to reach the next level.
With that in mind, we offer two of their solutions, IANOS & LISA, which seem to perfectly meet the needs of today and tomorrow, for all of the internal and external connectivity needs of your data center projects.
Through their experience in data center transfer and set-up, Ingenova has truly become an added-value partner for us. For the past 5 years, we have been working together to provide a joint response to the demanding specifications of our clients who require project management, respect for professional standards and sometimes very tight deadlines. The Ingenova team does not simply meet the expressed needs of their customers, they pro-actively suggest solutions at all levels. They offer alternative approaches that may be better adapted to the actual needs of our operators. We are happy to be able to count on them as partners.

H+S France Team
 ARE YOU LOOKING FOR A SERVICE PROVIDER/SPECIALIST/EXPERT IN DATA CENTERS TO HELP YOU WITH A SET-UP AND CABLING PROJECT ?