Back
Why should we work together to reach a common goal ?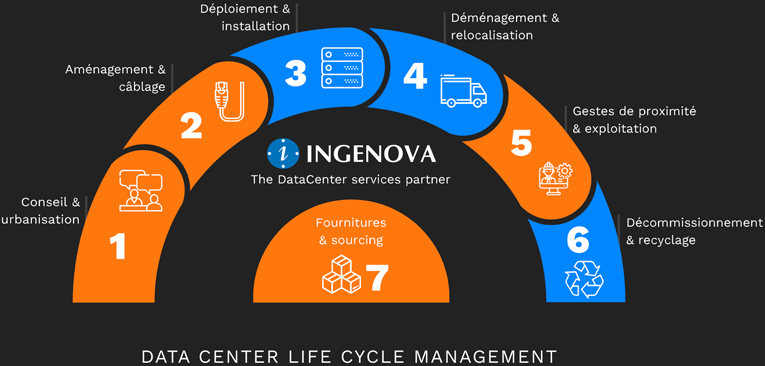 When you integrate Ingenova as a subcontractor for the design and construction of a data center adapted to end-user needs, you integrate a partner endowed with expertise to complement your own, who is trustworthy & reliable, and experienced in working with stakeholders in the construction sector. This would provide you with an edge in your bids, increasing your chances of success.
Data centers are buildings with highly specific characteristics, making them very difficult both to design and to build.
These new 21st century digital factories require technical expertise in :
External concrete shells
Energy chains
Standby power generators
HVAC systems
Safety and security
Fire detection and extinguishing systems
CTM & BMS
All of these highly technical areas are perfectly mastered by your teams and design offices.
Data centers, more than just buildings, are designed to house and connect computer equipment and data. The aim of such modern-day factories is to produce computer services, created and utilized by computer scientists, and funded by IT companies or departments.
The physical building aspects are essential and decisive for site operation. However without the proper products and layout to interface the equipment and data flow, the building is next to useless.
Buildings and IT services are thus entirely complementary and interdependent. One cannot operate without the other.
Ingenova, through our specialization, our culture and our employees, is positioned at the nexus of the construction and IT sectors.
We have the capacity to communicate with all our clients' IT teams, to talk about networks, storage, security, telcos, operations, performance, resilience, connectivity, etc. We transpose our clients' technical and functional requirements into products and layout solutions for their data centers, ready for construction and operation.
That is why we are certain that our interests converge, and that we can work in close cooperation to meet all your project goals.
Beyond enabling you to apprehend your projects more globally, this partnership would empower you to more effectively communicate with your clients' IT and production teams, in order to better grasp their needs as data center end-users, as well as often funders.
Bringing Ingenova on board will not only set you apart from your competition, it will also allow you to focus on your core business, to propose a fully relevant solution for both construction and IT needs, increasing your chances of success.
Here is the added value we can provide !
Our core business lies at the crossroads between construction and IT
Our activities and cultures are complementary
We often have the same clients
We are adept at integrating data center construction projects
We are accredited with most of the major manufacturers on the market
Our processes are certified ISO 9001:2015
We have suppliers, sources and charts to quickly provide estimates on prices and schedules
We have a strong culture of commitment
The Ingenova brand is a guarantee of reliability, access to the best references and project success
Our contribution will reinforce the credibility and relevance of your bids