Back
Why should we work together to reach a common goal ?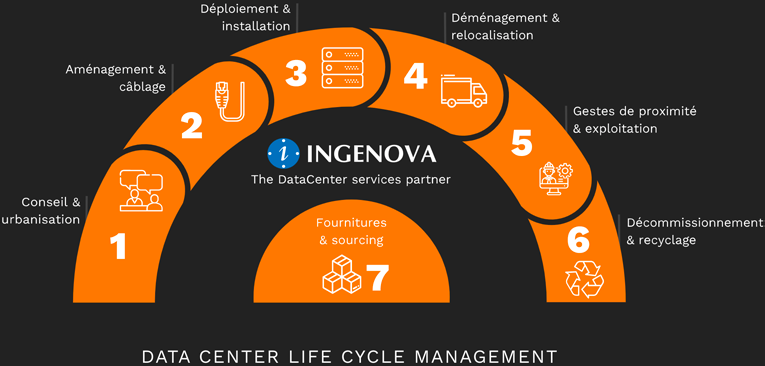 When you integrate Ingenova as a partner for certain data centers activities which are not part of your core business, you gain a competitive edge on the market and can provide security and trust for your clients and teams.
As IT services companies, in your advisory and integration activities you assist your clients with major projects :
Virtualization
Infrastructure consolidation and securing
Digital transformation
Migration to a hybrid Cloud System
Consolidation of multiple sites (within a new data center)
Consolidation of several IT systems following mergers and acquisitions
Securing project migration
Network overhauling
 …
Such projects require providing services in consultancy, architecture, engineering in LAN / SAN / system / storage / backup / virtualization / security / telco and many other areas where you have perfectly integrated skills and mastery in-house in your top level teams.
In many cases however, to provide comprehensive assistance or a turn-key solution, some activities can be outside your scope of expertise, beyond your core business.
These activities lie mainly in the following areas :
Set-up design combining equipment and IT expertise
Logistics operations
Data center relocation
Inventory and large-scale patching
Room layout
Deployments requiring major resources for IT activities that are considered low added-value
Highly specialized equipment for IT rooms
 …
Although they are not IT issues or your core business, these activities can be the deciding factor in the success of your projects.
Not having such skills in your portfolio can also decrease your relevance for succeeding with project management or turn-key bids.
This is why we are convinced that the complementarities of our activities should lead us to collaborate for the greater satisfaction of your clients.
Here is the added value we can provide !
We are very familiar with IT environments and can interact with you efficiently. About half of our activities are carried out in partnership with IT project managers.
Our activities are not in competition with yours.
We have a strong culture of commitment and results.
We know how to respect boundaries and your exclusive relations with your clients.
We can provide you with an edge over your competition thanks to a more complete and integrated offer.
Our expertise and intimate knowledge of all aspects of data centers provide security and reassurance for your projects' success.
Our methods, certifications and accreditations, sometimes unique on the market, lend weight to convince clients.
We have over 20 years' experience and thousands of successfully completed projects under our belts. Your clients will certainly be able to relate to some of those projects.
Our methods, teams, tools and partners will certainly enable you to optimize project schedules and budgets.
Launching a data center project with Ingenova will give you every chance for success, with your projects and those of your clients.