Back
Ianos of Huber + Suhner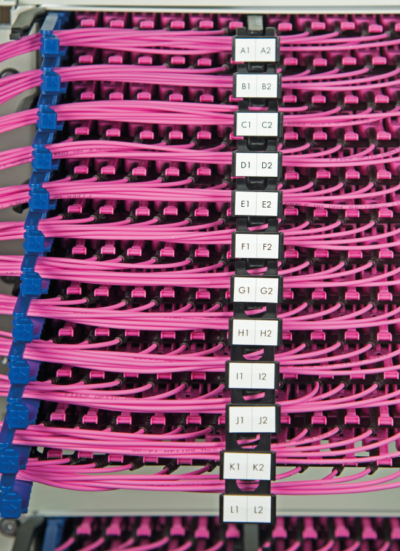 The IANOS system from HUBER+SUHNER is a state of the art fiber optic management system which facilitates fast, flexible and future-proofed connectivity in the data center. As its name suggests "IANOS" (inspired by the Roman god Janus) looks to the past as well as to the future. This means that "IANOS" is a combination of previous experience and valuable insight into the future.
Data centers are constantly adapting to reflect the demands placed on them, and today's fiber management systems need to accommodate these changes with the minimum amount of cost, time and disruption. As data centers evolve, we see a broad mixture of applications and data rates depending on the location, the business model and of course the data demand. IANOS accommodates these changes by offering the widest range of connectivity scenarios in a single generic platform.
The IANOS chassis can accommodate 72 LC or MTP® ports in a single 1 U rack space and 288 ports in a 4 U space. Alternatively, you choose the IANOS Lite version which accommodates 48 LC or MTP® ports in a single 1 U space. This extreme packing density reduces the total cost of ownership and allows valuable rack space to be occupied with revenue-generating active equipment.
1U and 4U chassis for server and switch connections
IANOS® is designed specifically for server and switch applications. The 1U chassis is for low-medium density and the 4U chassis is for high-density SAN switches. The IANOS® 4U chassis can also be used for end-of-row and middle-of-row distribution to nearby equipment cabinets.
Easy migration from 10G to 40G/100G
IANOS® is suitable for accommodating 10G link designs using LC connectivity or 40G and 100G links using MTP® backbones. This flexibility is achieved with many different modules that can be mixed and matched in the same chassis. Operators who build a 10G infrastructure today can easily migrate to higher data rates in the future simply by swapping out modules within the chassis.
Supported by compact and robust cable systems
Optipack trunk cables are high-density multi-stranded cables which form the backbone of the data center. Available in different fiber-counts up to 144 fibers, the Optipack trunks reduce the installation time by consolidating multiple sub-units into a single cable. This approach significantly reduces the overall diameter of the cable and provides much better space utilisation of cable routing channels.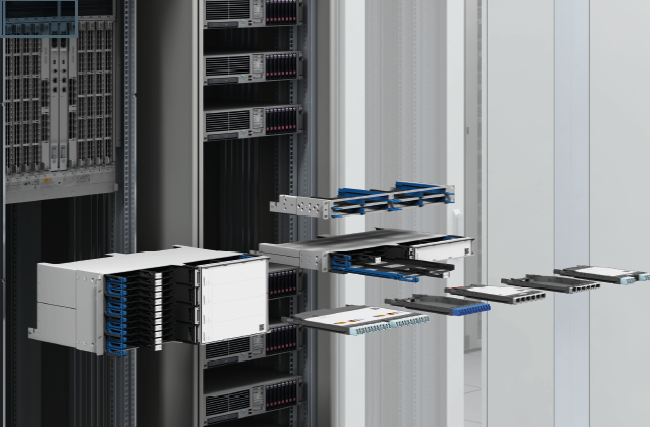 The IANOS® 4U chassis is designed for high-density applications where connections to high-density blade servers and switches are required in the same or adjacent racks. Generally mounted above or below switches, the IANOS® 4U chassis supports up to 576 fibers (288 ports) per 4U of rack space.
The split design of the IANOS® chassis allows users to separate redundant cable feeds down different sides of the equipment cabinet so that there is less risk of disruption to live traffic.
The IANOS® 1U chassis is designed for medium to high-density applications where connections to servers and switches are required in the same or adjacent racks. Generally mounted at the top of equipment cabinets, the IANOS® 1U chassis supports up to 144 fibers (72 ports) per 1U of rack space and the IANOS® lite chassis supports up to 96 fibers (48 ports).
The split design of the IANOS® chassis allows users to separate redundant cable feeds down different sides of the equipment cabinet so that there is less risk of disruption to live traffic.
Characteristics

Up to 12 modules/72 ports (LC duplex/MTP®) per 1U height space
Insertion and removal of drawers and modules with one hand
Horizontal opening front-door, separates redundant paths
Labelling within front-door or as a slide-out system from within the chassis central dividing element
Same modules for all IANOS® EDR applications
Optional rear cable manager with divider plate (left/right)
IANOS® EDR chassis are high-density scalable sub-racks designed to accommodate the next generation of data rates and transceivers in rapidly evolving data centers. Available in 1U or 4U height increments, the IANOS® chassis delivers industry leading packing density and best-in-class handling across almost every application, be it splicing, pre-terminated cables or direct patching.
IANOS® modules can be inserted from the front or the rear of the chassis and it is possible to mix and match any of the IANOS® single or twin modules in the same individual chassis. Unlike other fiber panels on the market, the IANOS® chassis has a split design separating the left hand side of the chassis from the right hand side. This means that users are able to access just one half of the connectivity row without disrupting pre-installed business-critical fibers. The unique central door system of the IANOS® chassis further acts as a clear separation element between the two sides of the panel, and users are deliberately prevented from crossing fibers from one side of the chassis to the other. This split-panel principle also helps to maintain redundant cable paths and reduces the risk of possible downtime.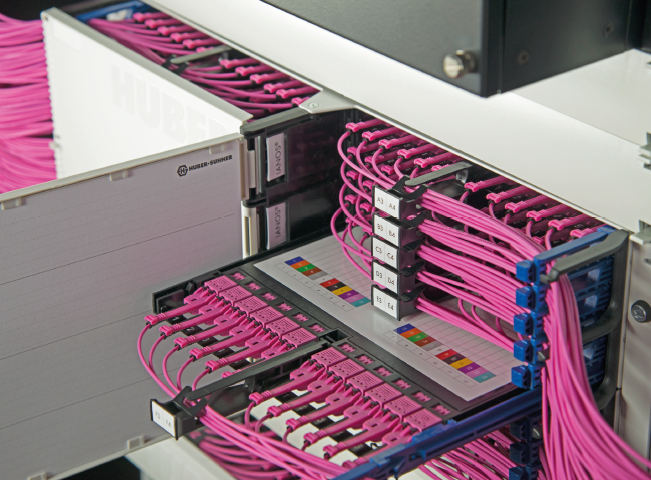 Key features IANOS® chassis
Clearer and faster identification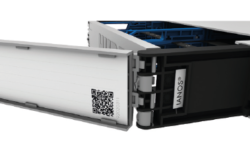 The IANOS® chassis is fully loaded with numerous identification areas for clearer and faster traceability. Doors can be labelled for identification or to show redundant feeds. Patching rows, module positions and of course port positions are all clearly marked on the product itself. There is even a slide out label in the center of the chassis for additional information.
Quick and easy access to patch cords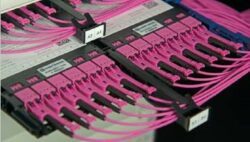 Because the IANOS® chassis is constructed with three sliding trays on the left and right hand side of the chassis, access to connectors is fast and easy.
Each tray can be slid out independently so that there is minimum disruption to pre-installed cords.
Split design for improved cable separation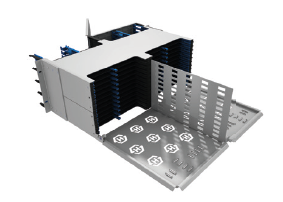 Standardisation bodies such as TIA and IEC, recommend that redundant cable paths are created in the data center. The IANOS® system facilitates this by completely separating cables entering or exiting the chassis. The benefit of this is zero disruption to redundant paths and much clearer identification of live/redundant traffic.
IANOS® Modules
IANOS® modules are interchangeable connectivity blocks that can be inserted into the IANOS® chassis from the rear or front side. A wide range of different modules are available to cover many different applications such as patching, splicing, transition and conversion. Single and twin modules are available to give users a higher degree of flexibility and choice as to how they want to build their fiber optic infrastructure.
IANOS® modules are extremely compact and lightweight and they can easily be inserted and removed as the infrastructure evolves. Operators who upgrade their infrastructure to higher data rates can remove their legacy 10G modules and then replace them with modules more suitable for 40G and 100G for example. This building block approach is what makes the IANOS® system so scalable and adaptive.
All of the IANOS® modules contain high-performance optical fibers and components so that the total hardware loss is reduced to an absolute minimum. This is important in higher data rate environments because allowable optical budgets are significantly lower at 40G and 100G than they are for legacy 1G and 10G systems. This enhanced performance helps operators to maintain flexibility whilst achieving performance.
Colour-coded MTP® adapters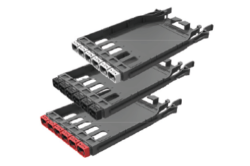 A unique feature of the IANOS® patching module are colour-coded adapters by base type. Coloured frames are added to the outer face of the adapter so that users can quickly identify MTP® types. This colour scheme is also continued through the cable system portfolio so that users can visually check that the correct trunks or cords are connected together.
Polarity flippable adapters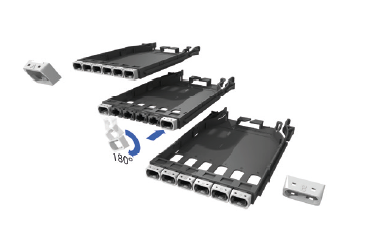 The MTP® adapter fitted to all IANOS® modules can be removed and rotated so that the polarity can be adjusted in the field. This allows users to convert a type A adapter (key-up to key-down) to a type B adapter (key-up to key-up). A clear marking is provided on the top of the adapter to show the type being deployed.
Supported by high performance Optipack harnesses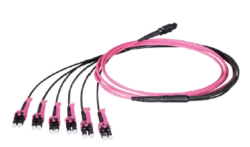 The IANOS® patching modules can either be fed from the rear with an Optipack trunk cable or alternatively harnesses can be connected to the front of the module. The Optipack cable harnesses from HUBER+SUHNER are extremely compact both in terms of cable diameter and furcation body.
These two products compliment each other superbly and offer the customer a total solution that is compact and optimised for performance and handling.
IANOS® MTP®-LC transition modules
Characteristics

MTP® to LC transition
Single and double module available
Fast and tool-less installation
Facilitates patching to serial transceiver
Available for Base-8, 12 and 24
Available in multimode OM3/OM4 performance
Compatible with IANOS® EDR 1U/4U and EDR zero space chassis
Colour-coded LC adapters by performance
Colour-coded MTP® adapter shrouds by base type
IANOS® transition modules convert MTP® backbone cables to LC connectivity at the front of the module so that LC patch cords can be connected to nearby active equipment. Generally used for lower data rates such as 1G, 10G, or 16G. IANOS® transition modules offer users the possibility to upgrade their LC based links in the future simply by replacing the transition module with an MTP® based conversion module, patching module or conversion harness. Transition modules are available in single or double versions and are suitable for Base-8, Base-12 or Base-24 MTP® backbones.
MTP® 10G systems that are upgradeable in the future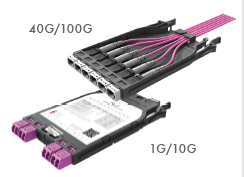 Transition modules using MTP® connectivity at the rear of the module allows users to build an upgradeable backbone suitable for 40G or 100G in the future. Deploying MTP® in the backbone also offers users a high degree of flexibility when connecting different types of interfaces and equipment.
Single and twin modules for increased flexibility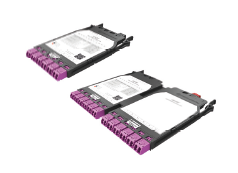 Having the flexibility of a single or a twin module in the IANOS® portfolio is crucial for many applications. The twin module offers improved routing space and handling when splicing cables and it also allows high fiber-count trunk cables to be better utilised in chassis. A Base-8 twin module supports a trunk cable that has 24 fibers and splits to 3 × 8 fiber MTPs® at the rear of the module. This reduces the size and installation time of the cable and also provides 100 % port density in the chassis.
Low-loss performance 0.35 dB
As data rates increase in a data center, the distance over which you can transmit data is reduced significantly. Furthermore, the total optical loss budget also comes down at higher data rates. To compensate this effect, operators need to deploy super low-loss components in all areas of the link so that flexibility can be maintained without compromising performance.
Base-8 for simpler upgrades
Base-8 transition modules are designed for environments requiring LC connectivity today, and SR4 compatibility tomorrow. Deploying eight fibers from day one, allows users to upgrade their existing LC links to SR4 parallel optics without wasting any of the fibers inside the cable.