As part of your large-scale project to transform, secure and adapt your Information System, sometimes you are required to rethink your hosting strategy, taking into account new challenges and new opportunities. This often leads to the consolidation of your IT infrastructures, including various data centers or data rooms. Depending on each company's situation, that consolidation can be done in data rooms on your own property or in third-party facilities.
But regardless of the destination, the consolidation nearly always requires a physical move of your IT equipment to new locations, and that move must be carefully planned to be successful.
Our offer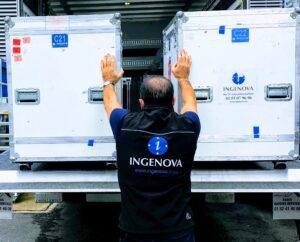 For over 20 years, Ingenova has been developing its offer and the business of assisting companies in transferring data centers and data rooms.
Our offer is based on methodology, organization, people and tools. We can help organizations (both private and public) of all sizes and all types in their IT transfers, whether it be for a few devices or tens of thousands of elements, across distances that range from a few meters within a single building to any relocation on the local, national or even European level.
We intervene in such projects either directly with the client company, or for IT service companies, construction companies, hosting service providers or any other sort of contractors.
Our transfer methodology, defined and implemented by our teams, has been used to successfully transfer hundreds of thousands of IT equipment elements.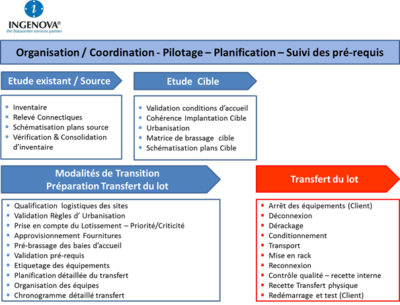 Every year, we move tens of thousands of assets.
Moving operations, by definition, cause partial or total interruption of your Information Systems. IS service interruption is highly unusual, sometimes unprecedented for certain types of IT services whose main mission is to keep infrastructures in operation and ensure optimal SLA for your business functions.
In this essential transformation process, we provide a tried-and-tested methodology based on the following principles:
I. Project management
Assign a project management team
Take transfer strategy into account in planning
Validate the scope
Jointly validate the methodology and assign tasks
Define a timetable
Monitor deliverables
Deliver consolidated reference documents
Gather feed-back
II. Review of existing system
Document and learn about the environments to be relocated
Carry out an inventory
Review existing connectivity
Define diagram of racks
III. Target study
Outline an equipment plan for the target environment
Validate terms of installation
Confirm set-up coherence
Keep design plans in mind
Keep target patching plan in mind
Create a semi-graphic representation of the target floor plan
IV. Transition processes
Describe the target environment and logistical flows
Identify risks and decide on appropriate secure solutions
Prepare installation infrastructures
Organize tools, reference documents and standard structures, all very familiar to our expert Ingenova staff
Define a detailed timeline
Share and cross-validate the reference documents
Validate the prerequisites and all information necessary for smooth roll-out of the move
Carry out preliminary verifications and validation
Define delivery protocol
V. Transfer operation
Transfer supervision
Disconnect equipment
Unracking
Packing into flight-cases
Moving and loading
Transport
Delivery of flight-cases
Unpacking
Racking
Installation confirmation
Data cable connection
Check patching plan compliance
Power cable connection
Finalization and internal delivery
Customer delivery and reception
Adjust irregularities
Assist with start-up
Closeout project report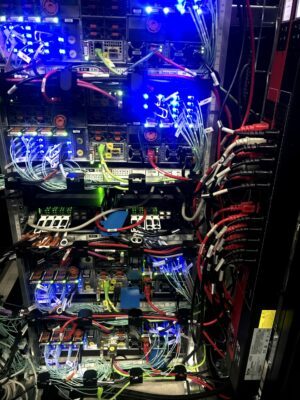 This methodology, as documented in one of our ISO 9001 processes, is perfectly mastered by our teams and can, of course, be adapted to any client's context or specific needs, as long as it does not represent a risk to the security of the transfer or its efficiency.
As part of our continuous quest for improvement, this methodology has been improved through feed-back from numerous projects, and can be adapted and customized as necessary.
We are convinced that by following this methodology and the robust foundations of these procedures, we can guarantee secure and reliable relocation operations, regardless of complexity. This approach contributes to the success of the projects we take on.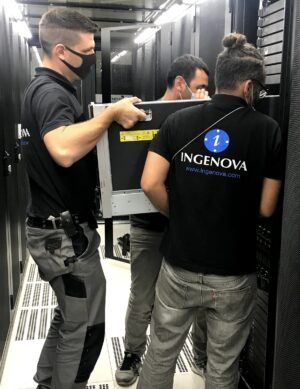 Obviously, methodology alone is not enough. It must be explained, represented, documented, verified and implemented by a team of professionals who are experts in its every detail.
Your main contact throughout the project is the Project Manager, who is part of a team of project managers with comparable levels of experience, ensuring you flexibility, responsiveness and security if there is a shift in the schedule, a problem with non-availability or a need for reinforcements.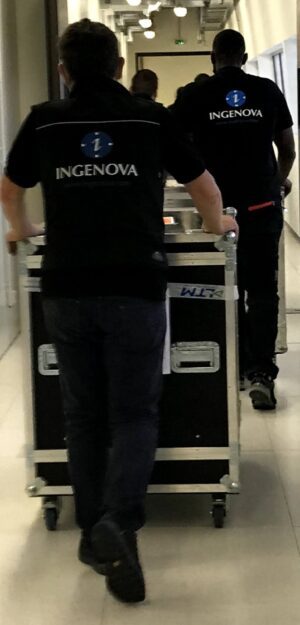 Everyone working on your project is permanent Ingenova staff, with high levels of knowledge, maturity and autonomy acquired through experience working on relocation projects. They have been involved in thousands, sometimes tens of thousands of moving operations, and are reliable, competent and experienced.
The Project Managers are assisted by Team Leaders and Technicians, who are also permanent Ingenova employees, and as such have perfect understanding of all of the subtilties related to connectivity, patch cable management, racking and unracking. They know about the complexity of sliding rails, and all the other equipment to be transferred, no matter what the brand or the models!
They are true experts whose experience is unparalleled on the market. They will be at your side to make sure your very special project is successful.
Method and people are not enough without the appropriate tools !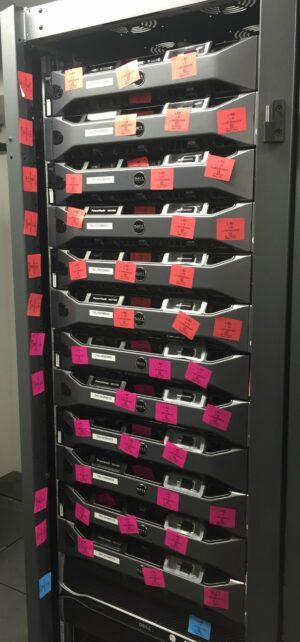 Because our operations are very repetitive, we have developed tools that are as simple as possible, for optimum efficiency and automation.
Below, your will find a list of some of the tools that we have designed and developed over time, to contribute to the security and reliability of the transfer operations that we have carried out over the past 20-plus years:
I.S :An internal Information System designed and adapted to our business (scheduling, allocation of tasks and resources, centralized vision…). Our IS corresponds exactly to the ISO 9001 process of our quality management system.
Project management:A collaborative project management tool to share documents, task execution, automatic recall…
Reference documents : Inventories, patching plan, source and target diagrams…
EasyRack : A tool to assist in generating source and target rack lay-out semi-graphically, to document source and target infrastructures
Label printers : Printers and labels that are perfectly for labeling cables and assets
Flight-cases : Over 60 flight-cases, all anti-shock, insulated, mounted on silent block bushes… especially designed and manufactured to move IT equipment, including models specifically designed for BladeCenter chassis or for the latest generation servers, or especially large, heavy storage units.
GPS tracker :GPS tracking tools for vehicles
Truck : A fleet of vehicles that are adapted to the different kinds and volumes of equipment to be moved
Testers : Tools to test the network before the move, to validate patching and network infrastructures, and check their coherence and functions.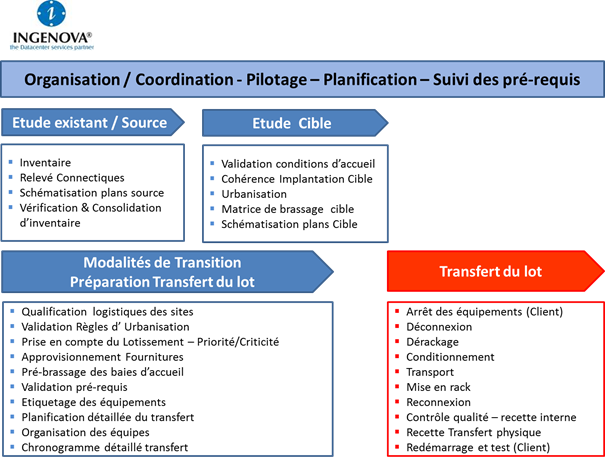 How can we organize secure relocation of IT equipment to new data rooms, while optimizing continuity of service and limiting risk and downtime ?
 How should we manage our relocation project ?
Does relocation require any particular supervision or allocation of resources?
What are the good practices?
What are the risks and opportunities involved with this type of project?
Do we need assistance to make this project successful?
Which activities should we take care of ourselves, and which can we delegate?
How should we schedule the timing of this project?
What are the possible impacts on the IS and our business?
How can we make sure the project is secured?
Should we take the opportunity to make other changes? If so, which?
Strong points & Advantages
A team of on-staff, experienced specialists who are there to make sure your project is a success
A tried-and-tested methodology that is reliable, flexible and capable of securing your transfer projects
Tools that increase efficiency in transferring your equipment
Processes that are certified ISO 9001:2015 by AFNOR
Over 20 years of experience with hundreds of thousands of assets transferred
Insurance policies that cover third-party liability, operations and transport, protecting all types of projects and every stage of the services provided
Status as Forwarding Agent, we are totally compliant with French and European transportation regulations
With perfect control of the contexts, equipment, deadlines and resources involved, we are able to make strong commitments to schedules and keep them.
Flexibility and adaptability enable us to meet project deadlines, even when situations evolve and contingencies are uncertain.
We have the organizational skills and the know-how to manage all sizes of projects, from the largest to the smallest, and over distances that can range from a few meters to thousands of kilometers.