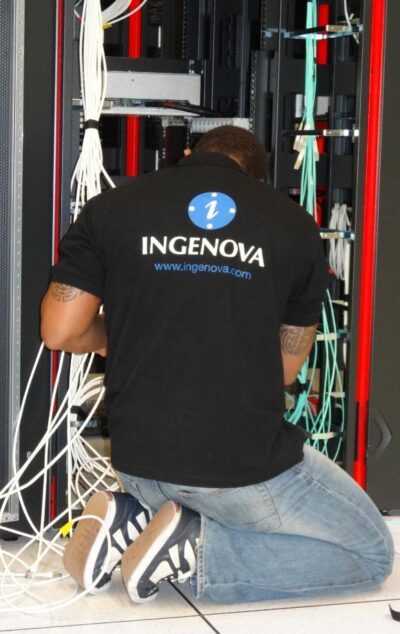 More and more frequently, data rooms are located far from your IT operating teams, and in many cases, they are located in facilities belonging to host service providers, sometimes several different providers.
Your companies impose SLAs that require IS availability 24/7, 365 days a year.
The response time required for interventions, whether they be planned or following an incident, is extremely short, and very often teams are under-staffed.
An intervention request is often issued by your IT remote management staff who may be located anywhere, in any country or any continent (France, India, Poland, USA…), through your ticketing system or that of your service providers.
The interventions must be carried out in compliance with SLAs corresponding to your service commitments, and by technicians who are familiar with the data rooms, assets, design plans, names and reference documents!And of course, everything must be done through a single entry point and in a relation of trust.
In answer to these concerns and recurring demands from our clients, we have created a Hands & Eyes Services and Operating Assistance offer.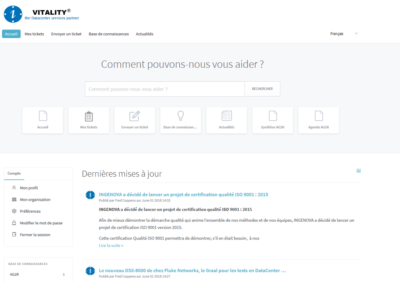 Ingenova's offer and its implementation are designed to meet the needs of all types and sizes of clients, and all kinds of sites, team configurations and needs for assistance.
Our offer aims at meeting the needs of the following types of scenarios :
1. Environments with single or multiple data rooms requiring an entire team with total or partial delegation, a team made up of several workers and subject to SLAs
2. Intervention by one or more technicians or managers, directed and under the responsibility of the client teams, with a commitment to replacement or continuity of service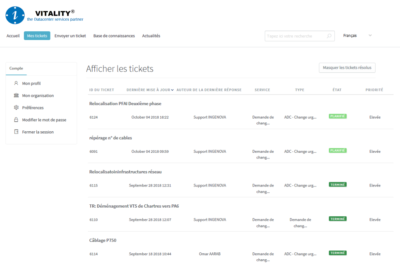 3. A shared mechanism, organized through a Service Desk that manages Change or Incident interventions, in strict compliance with procedures and subject to binding SLAs.
4. One-off interventions as reinforcement for client teams, during peak work periods, when understaffed or to support change or transformation phases.
Directed by the Client Operations Manager, these activities are structured around the following :
Service Desk :
The entry point for this type of service is our service desk, which can be reached from 8 a.m. to 6 p.m., Monday through Friday, by email, telephone or by issuing tickets that are register and processed according to documented processes.
Ticketing Tools :
When a contract begins, accounts are created for those people authorized to issue requests for services. Those accounts can be created by connecting to our on-line interface, or by simply sending an email to a specific address that we give you. The request triggers a standardized processing procedure subject to SLAs and end-to-end traceability, and a reporting process that is accessible real-time.
SLA :
When a contract begins, various levels of SLAs are defined, depending on the services requested. Those commitments shall be the object of signed contracts, and will be monitored and reported on regularly. The purpose of the SLAs is to meet Service Quality requirements for your internal customers.
On-call duty 24/7/365 :
An option for on-call duty, available 24/7, 365 days/year, offers you custom defined on-call services that can trigger intervention in case of an incident, leading to extremely short downtime. This monthly subscription package depends on the number of data rooms and their sizes.
Procedures & documentation :
When the service contract begins, procedures and operating modes are jointly defined, and made accessible to all those working on the job. The documentation can evolve and be updated by the parties to adapt to changes in the data rooms, rules or processes.
Point-of-contact Technicians :
In addition to tools and procedures, the quality and reliability of interventions depends greatly on our team's familiarity with your infrastructures. That is why a limited number of technicians are assigned to your contract. They are called on first to work in your rooms. A new technician will not be authorized to work in your rooms until he has accompanied a point-of-contact technician on at least 10 interventions. This system also enables your security teams to accord individual security clearance to each of our technicians.
Reinforcement teams :
The point-of-contact technicians assigned to each client can get support whenever necessary from our team of other technicians, known as our "support base." Those support base technicians also work exclusively in data centers and have the same level of skill and experience as your assigned technicians. This grants your considerable extra support if your project is big, or during peak activity periods or in case of other exceptional needs.
Tools & Support :
As part of our operating assistance and hands & eyes support, the service desk and our operating technicians can ask our experts and designers for help at any time; or under certain conditions, request use of our specialized tools to assist in implementing the tasks or operations at hand (transportation or logistics resources, IP testing tools, fiber optic or copper cables, working at height…)
Recurring activities :
Managing data rooms involves certain recurring and programed activities that maintain the operating conditions of your infrastructures. We offer physical inspections to verify all of your data rooms at pre-determined frequency to :
Identify visual and/or sound alerts on you equipment
Check inventories (monthly, quarterly, annually)
Check connectivity management and continuing patching plan verification (for example: 10% of racks every month)
Verify that every asset is labeled with its unique identification tag
Periodic verification of supplies for restocking
Rotate devices in the backup robotics
Make sure that containment is perfectly sealed
…
ISO 9001 processes :
These processes are documented in our Quality Management system and are periodically reviewed by our quality management team and our general management team, as well as by an external certification body (AFNOR).
Design & Capacity Management :
Our design team and our Service Desk can generate Design and Capacity Management systems for your data rooms, as part of a project for new installations or for the everyday management of your systems. The operating tools and related processes must be defined conjointly, to create remote-access references that are available to both parties.
Pre-paid Data Center Account :
To simplify invoicing, procurement processes and the administration time necessary for contract management, we offer a system that works like a "pre-paid" account, attributing tickets for services rendered, real time. The account and details of the tickets can be consulted at any time by those authorized by the terms of your contract management. When your account reaches its pre-defined lower limit, we contact you to ask you to replenish your account. You get cost-saving conditions on the pricing.
Steering Committee & Reporting :
the SLAs, we offer Steering Committee and Reporting services suited to your contract. The level of Steering Committee and Reporting corresponds to the service definition. It can vary from the simplest to the most extensive :
Monthly reporting
Monthly reporting + ConfCall
Monthly reporting + Steering Committee meeting
Weekly reporting + ConfCall & Monthly reporting + Monthly Steering Committee meeting
 …
These services are available for all data centers in the Ile-de-France region located less than 35 km from Paris, and for data rooms in the Marseille region, under certain conditions. If you sign up for these services, we work with you to decide which activities are covered and establish a partnership based on trust.
 Why not get the IT teams to take care of these data room interventions ?
Can I delegate these activities to my host service providers?
How far can I go in delegating to an outside provider?
Can these interventions be carried out by a security guard?
Why is it necessary to be familiar with the data rooms where the interventions are to be carried out?
Which SLAs can service providers commit to?
How can you send tickets to a third party through your client's ticketing system?
Could this system help me on a specific project or during an especially busy period?
Would it be possible to extend this service to other various data room operating needs, or even to additional work to be done on the rooms?
Can I let data room construction teams or maintenance teams work in the data rooms without supervision?
Strong points & Advantages
A customized, variable offer, adaptable to the different needs of our customers
Multi-disciplinary skills and expertise to accompany your data rooms throughout their life cycle
A single point-of-contact for all interventions in your data centers
SLA adapted to your needs and your availability requirements
Guaranteed time to intervention in all data rooms in the Ile-de-France region (less than 35 km from Paris) and Marseille (under certain conditions)
Service availability 24/7/365 for your incidents
Service quality that we try to make as "industrial" as possible, while maintaining personalized, individual human relations
A standardized, well-equipped service framework, customized for each customer's needs.
Hands & eyes technicians who know your data rooms specifically, whom you know personally and with whom you are used to working
ISO 9001 certified processes