Equipment installation or deployment operations in your data rooms often begin soon after the rooms are built.
You usually entrust those installations to your usual service providers, often companies or contractors you have purchased equipment from, and then, none of the plans or principles are followed.
Sometimes, certain installations are carried out with priority set mostly on "esthetics", without taking into account the importance of resilience or two-way routing, the need for intervention in the case of future changes or possible need to intervene after an incident. The cables are all hidden in wiring gutters or attached with unidentified cable ties or cables…
Your data rooms form a chain, the coherence and solidity of which depends on the weakest link.
That is why care and precision are required of each player, on every action taken, keeping in mind those people who will need to intervene in the future on operating infrastructures. Those future interventions must be done quickly, precisely and safely, and must be possible by external workers who did not necessarily participate in the initial installation phases.
That is why we believe that the IT equipment installation and implementation operations in your data rooms, as well as power cabling and data cabling should be done by specialists.
These phases of equipment implementation and installation are formative, whether they be part of a new data room, replacement procedures or a new installation.
They must be carried out accurately and precisely, otherwise irregularities and malfunctions will remain uncorrected, persistent and could trigger a downward spiral in your data room functions.
That is why we recommend a structured approach: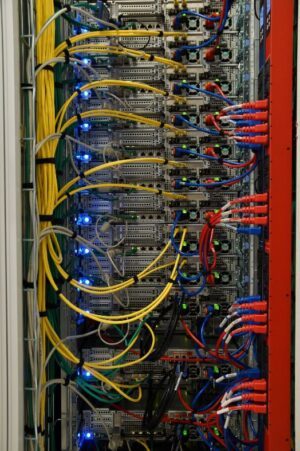 The racks are equipped and adjusted as needed for the corresponding type of connectivity
There are reference rules, or model racks, based on good practices which should be implemented in your data rooms
Names and labels are clearly defined
If any of the above-mentioned elements are missing, one or more workshops are organized to define the missing elements
A scope is defined and a schedule is set
Layout plan and patch panel plan are defined
Verification of the availability of supplies necessary for the work, according to current practices
Terms of service are formalized jointly
At the start of the work, a prototype is created to validate the principles to be implemented
The "industrial" implementation can then follow, including :

Unboxing
Assembly
Rackage, according to layout plans
Labelling
Data cable patching
Verification of compliance to patching plan, cables neatened
Power connection
Internal delivery and photo of rack / equipment as installed
Customer delivery

Delivery of full reference documentation
Feed-back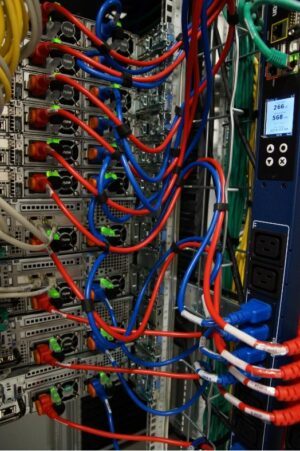 Our teams have extensive, concrete experience in the implementation and installation of IT equipment.
They have the tools, know-how, methodology necessary to carry out the work quickly, on a large scale, and in compliance with terms as defined.
That is what guarantees you unity and absolute compliance with the terms as established, optimum operability, interventions in the most timely manner and at the fairest price.
A simple cable that is incorrectly installed, poorly connected or improperly labeled can lead to considerable internal costs or impact on business. Therefore, it is essential that the initial installation be well done and appropriate.
That is exactly what we offer through our services, guaranteeing that your data rooms remain in proper operating condition.
How can I be sure that my data room IT equipment will be installed in compliance with the set design plans, in view of optimal operability ?
Isn't my own team of IT infrastructure technicians the best positioned to do the work ?
I usually order my IT equipment with installation included. Should I continue to do so ?
How can I guarantee that the design plan as defined during the design stage of my data room be followed ?
Is it possible to work tidily, efficiently and safely when managing connectivity, when there are large volumes of cables to manage ?
How can we launch work on a new data room without falling into the traps of our previous installations, which ended up being very difficult to operate?
Should equipment and connectivity be managed by the IT teams who are in charge of the different platforms ?
How can we reconcile speedy deployment and compliance with the rules as defined ?
What is the most efficient way to guarantee the perfect operability of my equipment as installed in my data rooms ?
Are there service providers who are specialized in the implementation and installation of IT equipment in data centers ?
Do the assets and the connectivity need to be labelled at initial installation, or can that be done at a later date ?
Strong points & Advantages
Work is done by teams who are specialized in data centers
 Our teams take special care to apply their extensive know-how to deliver your patched cables efficiently and intelligently
The ability to execute large-scale implementation as easily as small-scale projects, and always quickly
We have the proficiency and the aptitude to install all brands of equipment
We have supply circuits that enable us to cover all types of connectivity solutions, often tailor-made to improve the operability of your infrastructures (colored power cables, copper and fiber optic cable cords, labelling, appropriate cable lengths and colors…)
We can manage your project very independently, as long as you provide us with the necessary information.
We can facilitate operations through asset and connectivity labelling.
When installations are complete, we provide you with full patching plans, including the numbers of the installed cables, as well as complete inventory files (S/N, ID number…)
We can manage related logistics independently, if necessary: storage, delivery and destruction of packaging
At the end of a project, we can also take care of getting rid of the old equipment that has been replaced.