Back
Why should we work together to reach a common goal ?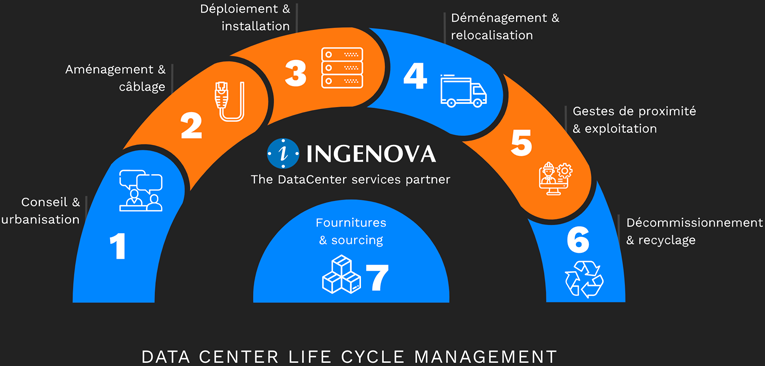 When you integrate Ingenova as a subcontractor at a local level in France or to carry out certain data center operations, you gain a reliable and agile partner with long experience working with cloud solution experts and at ease exchanging in English.
As a major cloud services provider, you have a global approach.
Deployments and operations carried out in Paris or Marseilles must be in every way comparable to those carried out in London, Amsterdam, Frankfurt, New York, Seattle, Hong Kong or Singapore.
Your design and references are highly standardized, your processes and products are applied in the same fashion at all your sites to guarantee the strict respect of your methodology.
That is why over the past few years at Ingenova, we have undertaken to do our utmost to respect your requirements in your choice of partners.
We have therefore set up partnerships and obtained certification from a number of international stakeholders from the hyperscale data center sector :
Commscope
Corning
Huber+Suhner
Legrand LDCS
Leviton/Brandrex
Minkels
Panduit
Raritan
Schneider Electric
…
Furthermore, the image that you project through your offers and products requires meticulous choices in subcontractors to ensure that essential criteria are met for an equitable and lasting collaboration :
Health and safety at work
Human rights
Combating corruption
Protection of the environment & sustainable development
International labor standards
Insurance covering all our activities
You work mostly in English and are looking for partners able to do the same, in both written and oral exchanges.
Given the considerable business stakes involved in your deployment projects, you need partners you can trust and rely on, who are rigorous, highly skilled, with tightly knit teams and a culture of commitment.
Commitment and trustworthiness are imperative in your relations with your partners.
Here is the added value we can provide !
Agreements with international suppliers often used by the major cloud players
A strong commitment to respect and disseminate the values promoted by the United Nations Global Compact:
a. Human rights
b. International labor standards
c. Protection of the environment
d. Combating corruption
Insurance from top level insurers (Axa & Allianz), perfectly adapted to cover all our activities
All of our company processes are certified ISO 9001:2015
English is a working language for the majority of our teams
Strong expertise in installing and operating large scale data centers
Staff trained in all the tools and technologies installed in your centers
Tools perfectly adapted to the operations we carry out: Intervention vehicles, mobile scaffolds, work platforms, fusion splicers, Fluke Networks testing tools (copper certification, photometers, reflectometers, inspection microscopes, etc.)
Strong mobilization capacity
Very strong culture of commitment