Back
ISO 9001 : 2015 Certification
Ingenova is proud to announce that it is ISO 9001:2015 certified. That certification demonstrates Ingenova's strong commitment to continuously improving its organization and business departments, as well as its desire to constantly better serve and satisfy its customers.
Commitment, success, trust, satisfaction and quality are the foundations of the relations we build with our customers, partners and staff. That is why this new step appeared obvious to us, a new direction for our company's development.
The ISO 9001:2015 standard is used to certify quality management systems that focus on continuous improvement, customer satisfaction and firm engagement of the entire company and all of its employees in an approach based on processes. It is awarded exclusively to companies who can demonstrate that they have effective protocols and documented continuous improvement and communication with its customers in regards to service quality.
After two years of tireless effort and mobilization on the part of the entire team, with assistance from the Caron Consulting firm, Ingenova was awarded certification according to the ISO 9001:2015 standard, following an audit by AFNOR.
The certification covers 100% of the company's scope and activities for a 3-year period.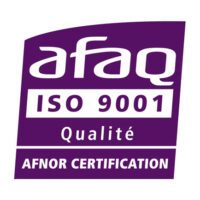 Our business activities support major organizations in the life cycle of their data rooms. Those rooms are an essential element in the proper functioning of our customers' Information Systems. A precise and industrialized approach is therefore obviously imperative.
Implementing and maintaining good operating conditions for data centers require very high-level service and impeccable quality.
The Quality certification confirms our rigorous management, well-defined processes, appropriate information systems and teams who are fully focused on customer satisfaction.
We would like to take this opportunity to thank the entire Ingenova staff, as well as the team from Caron Consulting for their commitment to efforts toward achieving that certification.
Let us not forget that this certification is not an end in itself, but a landmark in our quality process and proof that we strive to constantly improve…