Their specifications and characteristics cover an infinite variety in terms of types, brands, standards, colors, sizes, etc.
Their availability can determine the finalization and success of your projects.
Highly specialized bespoke supply chains are required to guarantee quality, functional diversity, on-time delivery, lowest possible prices, diversity, capability and advice concerning these products.
In addition to preventing project delays and bottlenecks, choosing the right products can also strongly improve the quality of everyday data room operations.
Ingenova has been instrumental throughout the life cycle of data centers for over 20 years.
We are called upon to supply a wide range of high quality products which are perfectly suited to both installation and operational phases.
We have a vast network of specialized producers, suppliers and partners who are reliable and have plentiful stocks, as well as the capacity to manufacture on demand, in local, near-shore and off-shore workshops, enabling us to meet all your needs with the best possible fit.
These products are designed for data centers, for "real life", guaranteed to meet your needs over the long term without requiring any changes.
We have a very broad choice of products on offer, so don't hesitate to reach out.
The following product presentations are not exhaustive but rather aim to showcase some that we have found particularly noteworthy.
Here are a few of our product lines!
Providing the right data center supplies and accessories for the long term, without jeopardizing ongoing projects
What types of copper and optic fiber cables should I use to equip my data center?
What labeling options should I choose?
Where should I purchase my color-coded power cords?
Must I buy brand products or are off-the-shelf ones sufficient? Where can I find them both?
Do my computer hardware suppliers know which products and supplies I need to operate my data rooms?
Where can I find a retailer to supply all of my data center needs?
Is there a company that sells data center products and supplies, which in addition, has in-depth knowledge of data center operations?
How can I secure my supply chain, given that online purchasing appears ill-adapted for operating strategic infrastructure?
I order the same products on a regular basis, how can I secure my supply?
Beyond supplies, where can I obtain assistance for implementation and to manage activity peaks in my data centers?
The product lines we offer are as follows ! Racks & Containment
Brand racks, multiple models and destinations
600x1000, 600x1200, 800x1000, 800x1200
42, 47, 52U
Stand-alone racks (Cooling, inverter, fire detection and extinction)
Sound-proofed cabinets Power distribution
PDU
Managed CPDU
STS Power cords
Power cords (C13/C14, C15/C14, C5/C14, C19/C20)
All adapter types (IEC, Hypra, etc.)
Extension cords Monitoring & surveillance
KVM
Console
Temperature & humidity sensors
Power & physical environment management software Connectivity
Copper patch cords RJ45 Cat6a (Standard, Slim, etc.)
RJ45 Octopus cables
LC/LC fiber optic patch cables
MTP Cables (MTP 8/12/16/24)
MTP/LC Breakout cables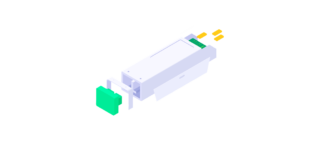 SFP & QSFP
Transceivers: SFP, SFP+, SFP25, SFP32, QSFP+, QSFP28, QSFP56, SFP50 and OSFPA
OC and DAC: 10G, 40G, 100G, breakout, etc.


Identification
Labeling & marking of equipment and assets
Connectivity labeling
Printing solutions: printers + software
Safety, instructions, etc.
Bar & QR code reader Tests & Metrics
Testing & Certification tools: copper, fiber optic
Measuring equipment: electrical, optical, etc.
Diagnostic tools: electrical, optical, network, etc.
Measurement: temperature, air flow, pressure, etc. HVAC management
Containment
Sealant
Brushes, joints, etc.
All products useful for sealing and containing Other supplies
Accessories: trays, cable brackets, combs, nut cages, etc.
Lifting tables, flight cases, servants, suction cups, etc.
Miscellaneous: aerial work platforms, foot stools, rack unit measuring tapes, velcro, etc.
Strong points & Advantages
A very broad choice of solutions designed for the most demanding data centers
Access to products from the most famous brands, as well as from high quality newcomers
Independent and competitive multi-sourcing
Suppliers richly endowed with a multiplicity of references for last minute deliveries
Products and solutions we call upon on a regular basis in site management
Over 20 years of experience using these products enables us to provide detailed advice
High performing products, at the right price
Specialized workshops available for production to your specifications
Personalized quotes following discussion with our specialists to ensure perfect understanding, and thus fulfillment of your needs
A single-stop shop to find all the solutions you need to install and operate your data centers.