Very often, the design phase for the transformation of your IS or modification of your hosting strategy, leads you, as Chief Information Officer, to plan for the creation or the opening of new data rooms in your own buildings or in buildings belonging to your Host Service Providers.
When it comes to creating new rooms, or opening rooms with your HSP, the issues are essentially "building-related," although in fact, the purpose of the project and the teams who will be managing it will be "IT-related."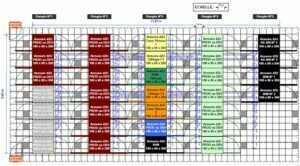 What do we mean by that?
When creating an in-house room, just like a room with a host service provider, design definition focuses mostly on HVAC structure, IT transmission in kW, the number of rack units necessary, safety and security of the site, the level of "tiering" on the site…
As you may have realized, the design process and definition of the IT rooms are at the crossroads between "building-related" issues and IT infrastructural questions.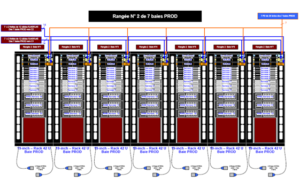 Schools do not teach engineers to design data centers, like they would train them for fields such as electricity, HVAC, networks or storage… which are fields with many experts.
Good design is not solely dependent on thorough knowledge of standards such as ANSI, ISO, TIA…
At what point, with your "Construction" or "Host" service providers, will you talk about network architecture, storage architecture, scaling up to super-high speed such as 40 / 100 / 200 Gb, operability, destination and organization of racks, accessories, operating tools?
Your future data room will be an integral part of you information system. It will actively participate in the agility, scalability, security and operability of your IS.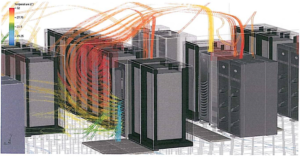 It is no longer a question of standards, good practices, or doing "what we have always done."
The IT infrastructures of today and tomorrow are very different from those we knew yesterday.
The design of your rooms must be reviewed and redefined to integrate the challenges of tomorrow with serenity and the ability to operate them efficiently.
How can you reconcile the knowledge and the expectations of you IT teams with those of your building-focused interlocuters, to arbitrate decisions that will engage the agility and the scalability of your rooms for many years to come?
 Do your teams have the know-how and the culture necessary to manage the design of your new rooms so that they include the latest innovations and will be adaptable to your future developments
Do your "building-related" contacts have sufficient IT knowledge to advise and guide you in your choices?
Who has the know-how necessary to combine the building-related issues and the IT questions, and also has experience in construction and IT room operations ?
What kind of cabling infrastructure do I need for my new LAN and SAN architectures?
Do I need separate dedicated optical infrastructures for the LAN and for the SAN, or can they be combined?
How can I choose, given the multitude of standards and the various solutions available from the manufacturers?
What type of racks and accessories do I need, depending on purpose and usage?
How can the connectivity reserve capacity be managed in order to anticipate future scale-ups to 40 / 100 / 200 / 400 Gb high speed systems?
Can high density and operability be reconciled?
How can a new data room be designed on a reasonable budget without neglecting security, resilience, performance, scalability and operability?
Les travaux d'Urbanisation et de définition des salles informatiques nécessitent la recherche de bons compromis sur un grand nombre de sujets :
What floor plan ?
How many racks ?
What kind of racks, depending on their purpose ?
What accessories are needed, depending on purpose and usage ?
What kind of electric power is necessary for each type of rack ?
What kind of plugs are needed for the racks, and how many ?
What kind of accessories are necessary and how should they best be positioned to ensure legibility, operability, resilience and security in the racks ?
How can copper and fiber optic cable distribution be managed in the racks down to the last centimeter ?
What kind of cabling architecture is required for the LAN and the SAN ?
What about out-of-band network management ?
Which standards are best for copper and for fiber optics ?
What is the cabling density for copper and for fiber optics ?
How can we remain flexible and anticipate a scale-up toward 40 / 100 / 200 / 400 Gb high speed systems ?
Should we implement MTP or breakout? MTP 8, 12, 16, 24 ?
Do we need separate EDA / ZDA / HDA / MDA cabling racks, or can they be combined with existing network equipment ?
How should the cable paths between the racks be designed ?
How can we make sure that the cabling architecture is clear and legible ?
How should we name them ?
Should color codes be used, and if so how many ? To distinguish between which parts ?
Are there universal design rules or good practices ?
What kind of test strategy would be best for my copper and fiber optic cables ?
The list of questions is endless.
Is there a right answer to all of these questions ?
From our point of view, there is no single right answer. There are different compromises, adapted to each situation and to each client case!
To help you define the right compromise for your specific case, our approach is as follows:
Gather information about your objectives, your schedule, your budget and the specifics of your project.
Define a working group, with (at a minimum) the Client Project Manager and a representative of each department: operations, LAN, storage, security, room management.
Visit your current data rooms.
Familiarize ourselves with the plans and dimensions of the future rooms(s).
Carry out interviews, to:
a. Understand the main functional domains of your IS
b. Discuss the system architecture (consolidation, virtualization…)
c. Gather architecture lay-outs for LAN, storage, security, telco …
d. Learn about the DSI organization chart, the organization of the teams and areas of expertise, as well as the responsibilities of the various teams.
e. Take into consideration projects involving future short- and medium-term scaling-up and restructuring projects.
Analyze the data that is collected.
Hold workshop on specific issues, to be sure that all aspects of the project are covered.
Share examples of past projects.
Draft a design summary, with capacity definition and illustrations
Continue to work on the project definition, until we reach one or more scenarios that represent a good overview and an "intelligent" compromise that is relevant to your specific needs and situation.
Present our conclusions to the entire working group.
You approve of the model(s) presented.
Provide detailed documentation of the scenario(s): Floor plan, capacity planning (racks, connectivity, power cabling), detailed descriptions of each type of rack, elevation drawings of the front of each rack, detailed illustrations of cabling racks, descriptions of the cabling architecture with a technical description and plans for links according to the type of device, cabling path maps, names.
Deliver the design project file to the client; take comments / requests into account.
These consulting and design missions are carried out by one or more of our consultants with that dual-culture, covering both IT and construction, which brings perspective and overview.
The scope of the missions that you entrust to us can be adapted, but the approach and the method remain relatively similar.
These missions are relatively short in duration, so they can be effectively integrated in a schedule that is often tight and did not necessarily include this intermediary reflection stage, which is nonetheless essential to ensuring that the room set-up is a link in the added value chain of your Information System, rather than a "necessary evil".
Strong points & Advantages
A hybrid culture, combining the IT world and the data center world in a "construction-oriented" vision
A capacity for dialogue with all the stakeholders involved in your data center or data room project
A pragmatic, global approach that gets straight to essentials, to ensure effective and productive joint mobilization and reflection
Good theoretical and practical knowledge of all families of products and standards associated with the sector
Good understanding of data rooms throughout their entire life cycles: Design, Construction/Set-up, IT Deployment, Moving and Relocating, Operations and Decommissioning
Experience from hundreds of different rooms, designs and architectures
Technology intelligence that enables us to keep up to date on emerging solutions, standards and practices, as well as market trends
In-depth knowledge of the different solutions offered by the various suppliers and manufacturers of data center products and technologies
Continued support throughout your data rooms' life cycles
Know-how that is widely and unanimously recognized by the main players and stakeholders in the world of data centers