Back

In 2019, LDCS announced its new cabinet, called Nexpand, which capitalizes on their know-how, while enriching the functions of their standard cabinet.
Minkels vous propose une baie qui probablement figure parmi les meilleures baies du marché, voire même la meilleure actuellement.
Le fait de disposer d'une plate-forme récemment renouvelée, vous garantit la pérennité de cette gamme pour équiper vos prochaines salles dans les années à venir.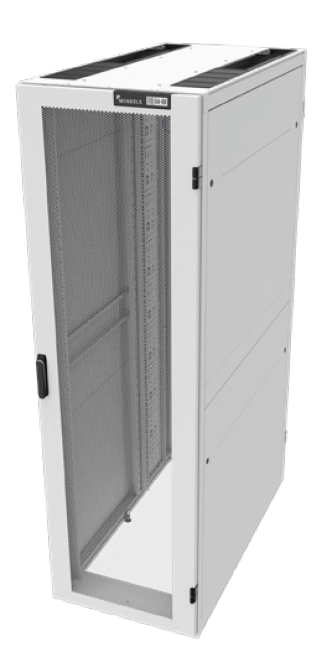 Minkels offers you a cabinet that is probably among the best cabinets on the market, perhaps even currently THE best.
Having a recently redesigned platform guarantees you the sustainability of the new range, to equip your data rooms of the future.
One of the main requirements in developing the Nexpand platform was a smart design.
With Nexpand, Minkels went the extra mile to guarantee the flexibility and modularity of the installation, and infinite adjustment of accessories and components. The platform truly gives access to the next level of data center infrastructures.
During the design they constantly looked to expand possibilities and provide high levels of scalability. The functionality has been seamlessly integrated into the aluminium frame providing a fully integrated platform and the opportunity to be combined with systems and products from the Legrand portfolio.
The Nexpand platform was built on four fundamental values: Intelligence, Robustness, Security and Sustainability.
Intelligence – The cabinet design is extremely flexible. For example, the interior is built to be adjusted in 3 dimensions, the roof is completely modular providing more space and flexibility in managing the top-of-cabinet.
Robustness – The Nexpand platform is made up of lightweight, but solid doors and frame which easily bear the weight of your IT equipment. The sturdiness, the full integration of the locking system and the cabling are unique on the market.
Security – Nexpand guarantees the highest level of security by interfacing with top-notch platforms for the electronic door locking systems, including integrated high-security cables in the door mechanisms and anti-intrusion doors. All of this ensures that your IT equipment is safe.
Sustainability – Sustainability is integrated both in the design of the product and in its functionality. Eco-responsible materials, production processes and environmentally friendly assembly are guaranteed by an "environmental passport" – the Product Environmental Profile. The cabinets are designed to ensure optimal air flow management during utilization, which makes them a premium solution in terms of energy efficiency.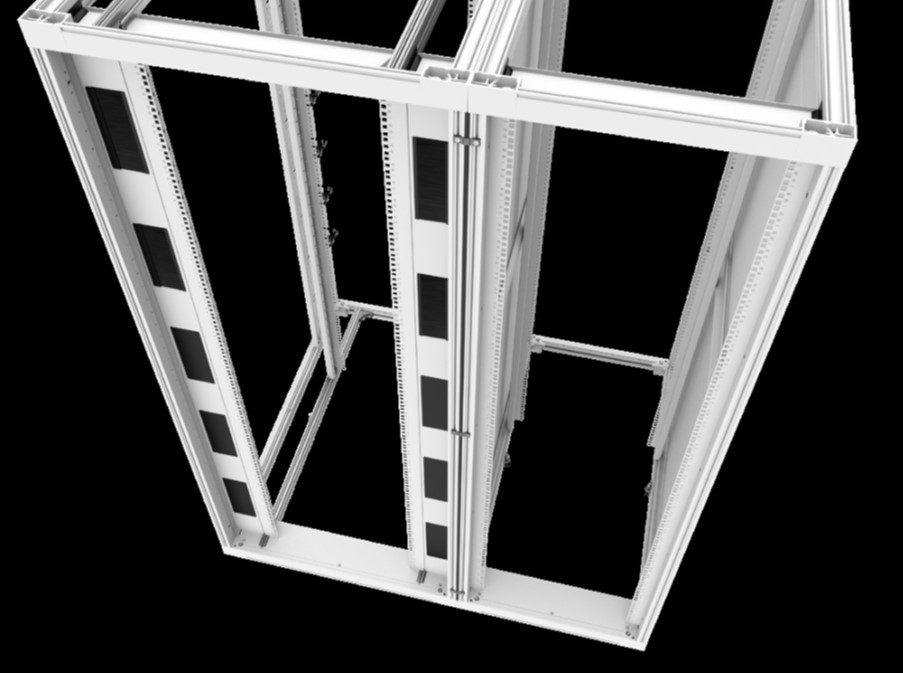 Side Panel
A side panel is especially used for end-of-row applications to aesthetically cover the side of the cabinet. The panel is horizontally divided for easy handling. Side panels are equipped with quarter turn locks..
AIRFLOW MANAGEMENT
Airflow management is the efficient guidance of the various airflows in data centers to keep the cold and hot air separated optimally. To optimize that cooling process, air leakage and recirculation must be minimized by using an airflow management package. Airflow management packages consist of a plate on the bottom, top, left and right. The airflow management package enables an air tight adjustability in the depth direction of 150 mm.
CABLE TRAY
Structured cabling is important for the reliability and optimum performance of your data center. The cable tray is used for vertical cable management and is steplessly adjustable in depth direction. Cables can be attached to the tray using tie-wraps and/or Velcro. Additionally plastic 1U cable rings can be toolless mount to the cable tray.
General Features :
FRAME
Light and solid aluminium frame with the capability to handle 1500 kg of static load.
Offers unique flexibility through stepless mounting possibilities in all three dimensions of the cabinet.
Threaded mounting rails in width, depth and height direction enable stepless adjustibility (for example cable management).
Integrated T-slots provide stepless adjustibility in depth and width direction (for example vertical mounting rail adjustment).
Nearly all accessories and components accessible from inside of the cabinet.
The cabinet is ready for placement of slide-in-side panels. This feature provides separation of cabinets, even after the cabinets are already installed and bayed.
Upgrade the energy efficiency by adding an airflow package in a later stage is possible.
ROOF
Solid platform for installation top of cabinet infrastructure.
Roof inserts follow a multiple of 100 mm
Nearly full-depth cut-out
Optimal positioning for PDU's. – Up to 32A plugs shall fit.
Cable pull relief available.
Cable dividers on top of cabinet follow the same modularity as the inserts.
Extendable per cabinet to create a cable duct system.
Cover plates and end covers available for dust/debris protection and airtight solutions.
Powder coated in same color as cabinet.
Roof is compliant with hot/cold aisle containment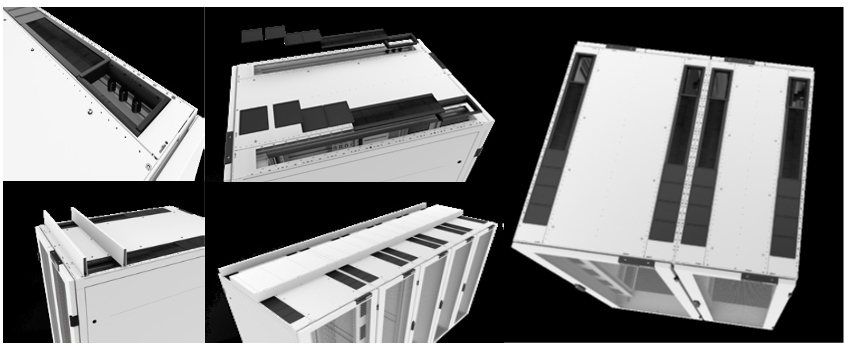 DOOR
Predefined position for identification.
Place serial numbers, barcodes or QR codes to code and personalize your cabinets.
Clean and minimalistic design.
Easy door installation.
High level perforation
Full integration of the locking mechanism and cabling (in case of smart lock).
High level access security.
Support of different types of locking possible.
Replacement of locking through detachable cover plate rear.
Door easily reversible (left/right hinged).
Door can open 165° in case of bayed cabinets.
Door can open 260° in case of stand-alone cabinets.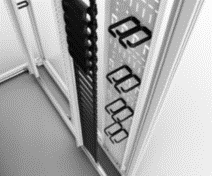 SERVER CABINETS WITH CABLE TRAY
 Stepless adjustability in depth direction.
 Multifunctional cable tray to organise your cabling:
o using tie-wraps and/or Velcro
o 1U plastic cable ring, toolless mount
SERVER CABINETS WITH AIRFLOW MANAGEMENT PACKAGE
Best in class air tightness.
Keep flexibility in adjusting vertical mounting rails without compromising on air tightness.
Upgrade the energy efficiency by retrofitting an airflow package.
Sealing cabinet-to-cabinet is optional.
Sealing cabinet-to-floor and cabinet-to-aisle containment is optional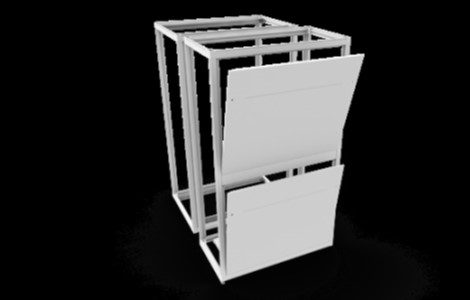 SERVER CABINETS WITH SIDE PANEL
Side panels are used when standalone is preferred or when the cabinet is placed at the end of the row
Earthing connection is established when locking the panels
Horizontally divided panels for easy handling
Cabinet view