Back
DGE8™ SOLUTIONS FOR DATA CENTERS AND STORAGE NETWORKS
The Corning EDGE8™ solutions use a base-8 design to simplify migration toward 10G+ transmission speeds in data centers. This tip-to-tip solution includes housing, modules, panels, network links, harnesses and jumpers, and provides clients with 100% fiber optic utilization and improved link performance in parallel optical fiber deployment.
Advantages
Space-saving base-8 technology components in housings – More flexibility with six slots per tray, for easy panel and EDGE8 module deployment
Clear identification – The housings, modules and MTP connectors are marked EDGE8 for simple identification of base-8 components
Ultra-low-loss – Improved performance in terms of loss leads to improved links in parallel optic set-ups
Male MTP connectors (with pins) on network links – Connection cables can be implemented alone
---
Below, you will find an overall view of the EDGE8® solution. However, all products are not listed here.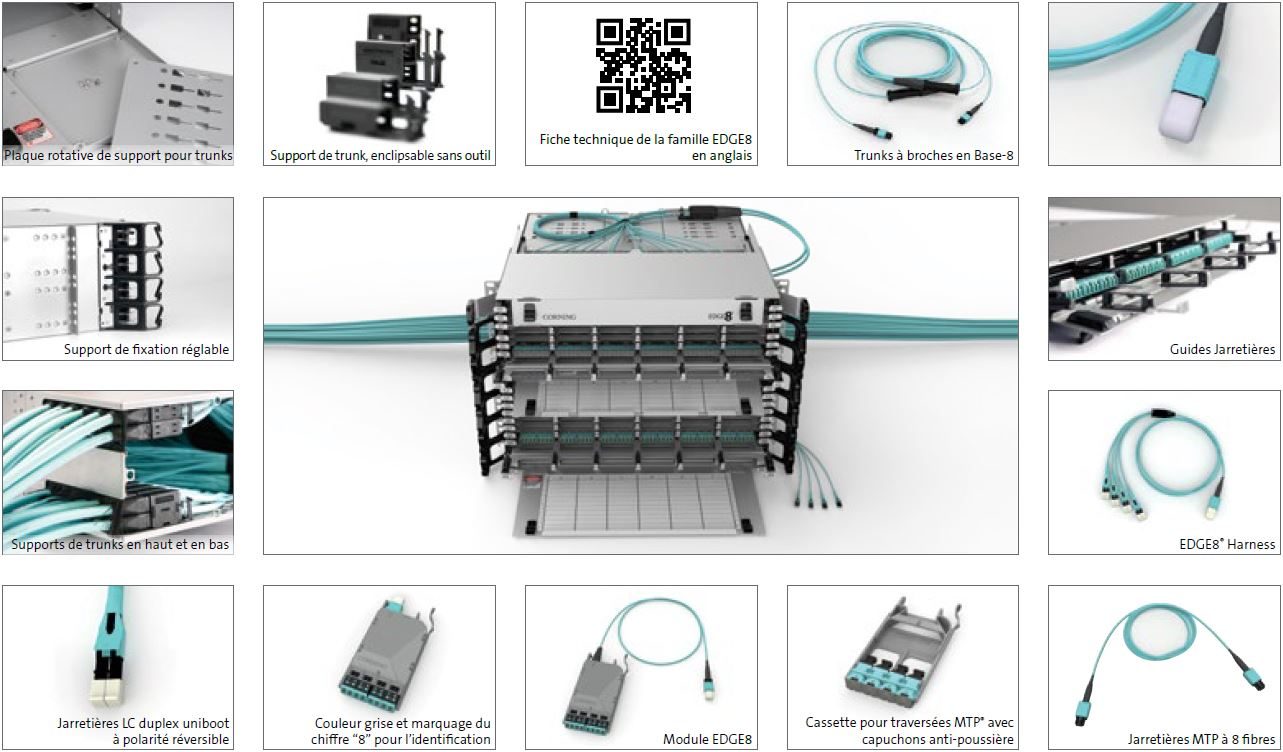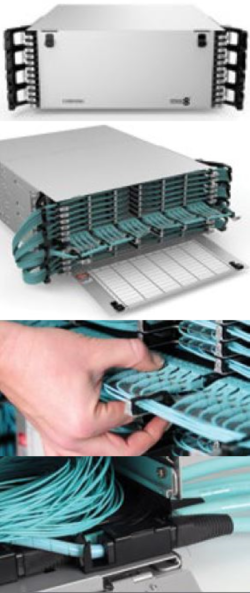 EDGE8® HOUSINGS
The housings mount in 19-inch cabinets or racks, and provide industry-leading, ultra-high-density connectivity when combined with EDGE8 modules, panels, harnesses, trunks and patch cables.
The unique design of EDGE8 housings includes sliding drawers enabling module or panel installation from
the front or rear of the housing. Each sliding drawer contains integrated cable routing elements to support effective patch cable management while providing unprecedented finger access without the need for tools or other accessories. The mounting and removal of trunks is a simple, quick, and tool-less operation enabling rapid deployment of high-fiber-count trunks for faster moves, adds, and changes (MACs).
EDGE8® TRUNKS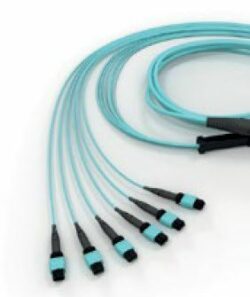 Trunks are pre-terminated cables with ultra-low-loss 8-fibre MTP connectors with pins on both ends. Pinning the trunks allows for a single, pinless patch cable deployment for all installations, reducing stocking and deployment complexity. The trunks build up the major skeleton of the passive network infrastructure and, thanks to the superior design containing Corning® ClearCurve® fiber, they enable rapid deployment for your campus LAN or data center facility. All trunks are shipped with strain-relief clips that allow for tool-less installation in all EDGE™ solutions (EDGE and EDGE8) and Plug & Play™ systems housings.
MTP® EDGE8® ADAPTER PANELS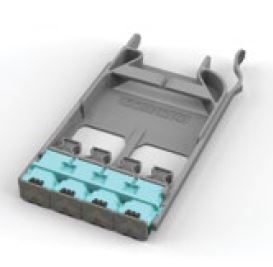 EDGE8™ adapter panels are a pass-through panel with a single row of MTP® adapters available in 1-,2-,3-, or 4-port variants. The backbone trunks connect at the rear of the adapters, providing various options at the front from end-to-end links with patch cables or harness solutions or as a cross-connect in the MDA. The MTP adapter panel is the easiest way to implement a parallel optic application in your data center while retaining the existing hardware. All EDGE8 adapter panels can be installed from the front or the rear of any EDGE8 hardware using a simple release mechanism negating the need for any special tools.
EDGE8® UNIVERSAL MODULES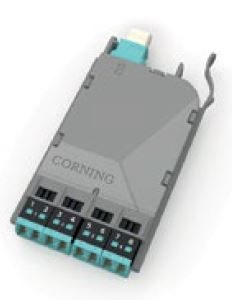 EDGE8™ modules provide the interface between the MTP® connector on the EDGE8 trunk and the LC duplex patch cables that will connect directly to the electronics or as a cross-connect in the main distribution area (MDA).
The internal wiring follows the universal wiring scheme to ensure the correct fiber polarity is maintained throughout the system independent of how many modules are utilized within the link. Ultra-low-loss performance of the module allows for multiple connections without compromising the tight loss budgets, permitting longer links than specified by the standards. Specially designed anti-dust shutters ensure the end face of the connectors are never touched, and replace the standard dust caps that typically when removed are never replaced. In addition, the shutters are a visual fault locator (VFL) compatible to allow easy port identification while diffusing the VFL light to ensure adequate eye safety.
EDGE8® HARNESSES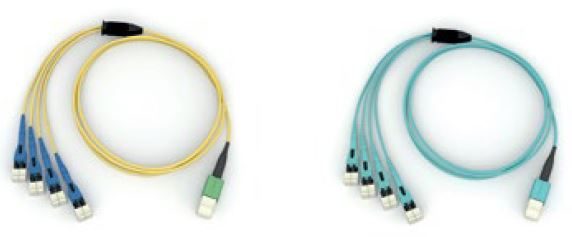 The EDGE8™ QSFP to SFP+ harness is an MTP® to four LC duplex assembly designed to disaggregate 1 x 40G port into four. LC duplex ports to benefit from the potential cost savings associated with 40G electronics. Similar to the port breakout module, an EDGE8 harness can be deployed in an equipment distribution area (EDA) to direct connect active electronics to the cabling infrastructure. Disaggregating 1 x 40G port into four 10G ports can only be achieved through parallel optics. EDGE8 harnesses are available in both staggered and non-staggered options.
EDGE8® MTP® PATCH CABLES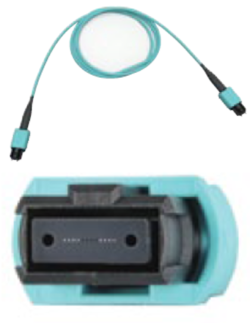 The EDGE8™ MTP® patch cables allow for a seamless migration to higher data rates in the data center when used in conjunction with the EDGE8 pinned trunks. By pinning the trunks, we have removed the need to potentially stock three different patch cable variants for direct, interconnect and cross-connect scenarios, meaning a pinless-to-pinless patch cable will support all installation requirements. These patch cables are wired to TIA-568 Type-B polarity as standard; however, other polarity and pin methods are available on request.
Polarity
When deploying high-density solutions, we inevitably have to install MPO/MTP-type optic trunks to connect the panels at each end.
Generally speaking, an optic infrastructure must cross-link between two network devices to enable the Rx dialogue with the Tx.
Several solutions are possible :
A Polarity : We install two different adapter panels at each end, one  straight, one cross-linked
Complicated to manage two panel inventories and disrupts installation
B Polarity : We install straight patch cables on one side, and cross-linked path cables on the other.
Too complex for everyday working, requires dual patch cable references, and makes operations more complicated.
Universal Polarity (Universal Wiring Invented by Corning): The cross-connect occurs inside the panels and is transparent for the installer and the operators,
Identical patch cables on both ends
A single panel
Enables migration to parallel optics
The perfect solution, without compromising anything!
WITH CORNING, 40G, 100G AND 400G ARE HERE NOW
Aggregation between network devices, or the connection of certain consolidation servers such as the Synergies, more and more frequently require access to 40G, 100G or even 400Gb data rates.
What kind of cables, what interfaces will enable us to reach that capacity?
How can we ensure upward compatibility?
Up until now, we knew how to manage 10Gb strand by strand, 10 one direction, 10 the other.
By aggregating 12 fibers in a single connector, called an MTP, by parallelizing the same 10Gb data rates per fiber, and using 8 fibers, we are able to generate 40G. The optic parallel technology combined with multiplexing wave lengths (850nm / 880nm / 910nm / 940nm), enables us to create 25G and 100G in one direction on a single strand. That makes it possible to create 100G Ethernet on a MTP multi-mode link (Gen2:SR4 4x25G), as well as 400G (Gen3SR4 4x100G). The same technology in FiberChannel enables 64GFC, 128GFC et 256GFC.
Access to ultra-high-speed is now a reality, and does not require very complex technology solutions in terms of pre-cabling. However, access to high speed does require products of irreproachable quality, with the most exacting components. In that field, Corning participates very actively and the solution included in our offer guarantees OM4, with immediate access to 40G, 100G and 400G data rates, if your network equipment has the capacity.
This level of service and performance remains reserved for aggregation network links and certain families of consolidation servers.