Back
Aisle Containment
Aisle containment is the solution to the challenges which data centers have been presented with since day one: the optimization of cooling and energy-efficiency through the separation of hot and cold airflows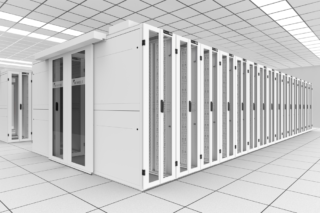 With the Nexpand Corridor, Minkels offers data center managers and owners 'future-proof' solutions which offer the flexibility and modularity needed to be able to anticipate the dynamic of the modern day data center. Minkels offers the best solution for every situation with the Nexpand Corridor.
The Nexpand Corridor is the ultimate answer to the ever increasing demand for flexible and modular solutions. In the form of the Nexpand Corridor, Minkels lifts modular thinking and energy-efficient data center design to a higher level.
Important features of the Nexpand Corridor are :
MODULARITY : Through the highly modular concept of the Nexpand Corridor, Minkels offers extensive possibilities to implement a Corridor solution in a phased and thus cost-efficient manner.
FLEXIBILITY :Because of its modular design, the Nexpand Corridor is flexible and thus can be adapted to fit the specific building environment.
EASE OF INSTALLATION : Modularity in the construction details ensure that the solution is easily and cost-efficiently installed
ENERGY-EFFICIENCY : With the Nexpand Corridor, Minkels offers a solution which is more energy-efficient than other Corridor-models on the market.
OPTIMAL INTEGRATION : The Nexpand Corridor can be integrated with row-based cooling systems which bring cooling close to the heat source, but also with more traditional forms of cooling which require a raised floor. In addition, this concept offers plug & play integration with e.g. fire detection and suppression systems, monitoring sensors and access control.
The principle
The basic principle of the NEXPAND Cold Corridor is the separation of hot and cold air flows in the aisles. Containment is essential to saving energy in data centers.
The two main advantages :
Consistent air conditions for your IT equipment
Consistent potential energy savings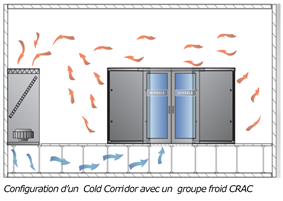 Consistent air conditions around IT equipment allow for higher temperature air delivery. ASHRAE specifications, extensively applied on the data center market, increase annually. In addition, higher air delivery temperatures also mean great potential for using free cooling.
Minkels has acquired considerable experience through many projects, leading to potential savings of up to 50%! Consistent air conditions around servers also substantially reduce the risk of "hot spots". That, in turn, greatly increases the predictability and reliability of IT equipment.
Over the past six years, Minkels has gained extensive knowledge and experience in this field, significantly contributing to the latest innovations.
Minkels aims for high levels of flexibility and modularity. Gradual investment and broad flexibility guarantee the most appropriate technical solution at the lowest price.
NEW FEATURES :

Modular options based on customers' good practices
Ease of installation
R&D optimization based on air flows
A broad array of security and door system (automatic) options
Plug & Play integration of monitoring sensors
Adaptable to all types of fire detection and suppression systems
Significant ceiling light transmission
FREE STANDING