Back
Corning PLUG & PLAY™ SYSTEMS
This is an overview of the Plug & Play™ solution, but not all products are listed in the core catalogue. If you want to know more, please refer to the Plug & Play family spec sheet.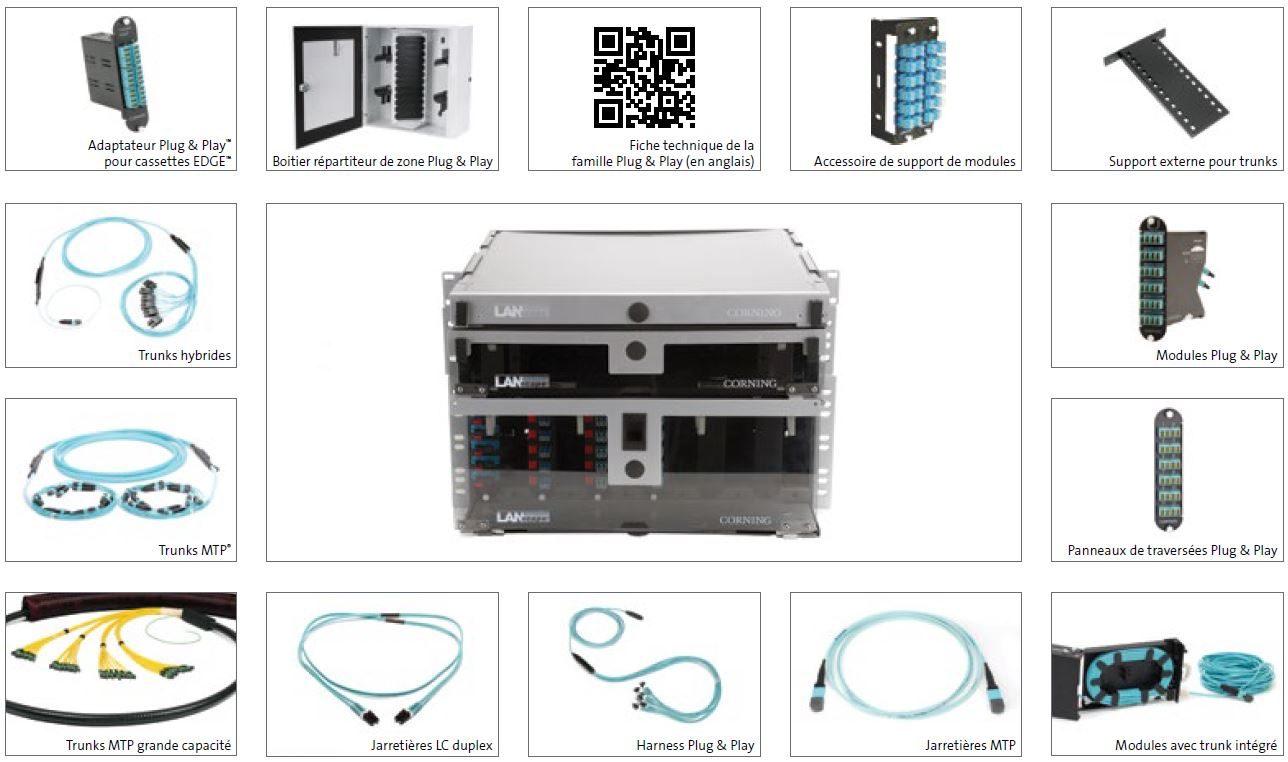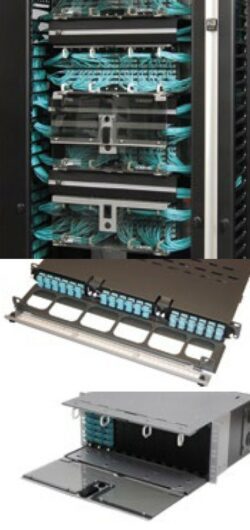 PCH Plug & Play™ HOUSINGS
PCH Plug & Play™ housings mount in 19-in racks or cabinets and provide industry-leading density when combined with Plug & Play modules, panels, harnesses, trunks, and patch cables. The housings enable quick deployment of the module or panel in the housing. The PCH-M3-01U contains a sliding drawer with integrated patch cable protection and a labelling element on the rear side of the front door. The PCH-04U housing contains an integral hinged patch cable manager on the front which can be locked in the "up" position for an additional 1U of horizontal patch cable management or left in the default "down" position to provide additional capacity for patch cable routing along the top of the housing. Mounting and removal of trunks in both housings is a simple, quick and tool-less operation enabling rapid deployment.
Plug & Play™ TRUNKS
Plug & Play™ MTP® trunks are pre-terminated cables with 12-fibre MTP connectors on either side. The trunks build up the major skeleton of the passive network infrastructure, and thanks to the superior design including
Corning® ClearCurve® fibers, they enable rapid deployment for your campus LAN or data center facility.
All trunks are shipped with strain-relief clips that allow for the tool-less installation in PCH Plug & Play systems housings.
 Plug & Play™ UNIVERSAL MODULES
Plug & Play™ modules provide the interface between the MTP® connector on the trunk and the LC duplex patch cables that connect directly into the electronics or as a cross-connect in the main distribution area (MDA). The internal wiring based on universal polarity ensures the correct fiber polarity throughout the entire system, independent of how many modules are implemented within the link. Specially designed indents in the shutters ensure that the end faces of the connectors are never touched. In addition, the shutters are a visual fault locator (VFL) compatible allowing easy port identification while defusing the VFL light to provide adequate eye safety.
Plug & Play™ ADAPTER PANELS
Plug & PlayTM adapter panels are a pass-through patch panel with a single row of MTP® adapters. The backbone trunks connect at the rear of the adapters, and then various options are possible at the front, from end-to-end links with patch cable or harness solutions, or as a cross-connect used in MDA.
The MTP adapter panel is a simple way to implement parallel optic applications in your data center while retaining the existing hardware.
All Plug & Play adapter panels can be installed from the front or the rear of any Plug & Play hardware using a simple release mechanism, negating the need for any specialized tools.